Desire Riviera Maya Resort Theme Nights
Desire Resort theme nights are pretty wild!  Imagine spending the day naked at Desire resort flirting with other sexy guests and then putting on your wildest outfit for the evening.  For us, this is one of the most exciting parts of the trip to Desire.  It is amazing the transformation that takes place after a day of seeing unclothed bodies.  At night, the naked bodies transform into those in your wildest fantasies.  The theme nights are wild and full of gut wrenching excitement.  We highly recommend packing your bags with outfits to wear for each of the theme nights during your visit.
For a complete listing of the latest naughty theme nights click here.
Monday: BDSM, Night Fetish Wear Theme

What are you doing on Monday night?  Your next Mexican Vacation could include exploring your fetishes.  Desire Resort and Spa has a BDSM theme night on Monday nights.  Get your wildest outfits packed into your bags and prepare to have a fantasy night.  Imagine a resort filled with guests wearing and showing off their wildest Desires through their choice of costumes. There are all kinds on online costume stores in which you can find great black vinyl and leather-like outfits without breaking the bank. May sure to accessorize too. That is twice the fun. Pack a feather whip or make one at home. Planning is a big part of the fun and foreplay.
Tuesday: Babes of Burlesque, Corsets & Gangsters Theme

On Tuesday nights the theme at Desire Resort is Babes of Burlesque Corsets & Gangsters. The entertainment includes live performances and erotic dancers. The atmosphere at the resort is transformed into the 1950's Cabaret theme with a little touch of the gangster era mixed in to add some more excitement.
If you attend this event put on your scarlet red lipstick and slip into your tightly laced naughty looking corsets. Your man can come as a hot looking gangster that will complement your look!  The theme nights offer something for everyone.  It is always fun to dress up and live on the edge.
Wednesday: Desire 911, Couples and Uniforms Theme

On Wednesday night the theme ate Desire Resort is Desire 911.  If you have a favorite uniform you want to show off, this is the night for you.  Dress up as a naughty nurse, a paramedic with sexual rescue items on your belt, or come with handcuffs to make arrests!  Use your imagination. Check out year around Halloween costume stores to find great and inexpensive outfits. Also check out second hand stores for some sexy scrubs that can be turned into an amazing doctor uniform.
Thursday: Nauti Nautical, Sailors Theme

On Wednesday the dress code at Desire Resort is sailor outfits for men and sexy pin up outfits for women.  This theme might get you ready to go to the next step and book the Desire Cruise ship on it next Mediterranean cruise!
Friday: Latin Nights, Tropical Theme

Your Friday night could be pretty exciting.  Listen to the live Cuban band, learn how to roll a Cigar, indulge in Rum tasting, and participate in a Dirty Dancing contest.  Come dressed in sexy tropical attire and enjoy the tropics. If you take a day trip, you might be able to do some sexy dress shopping and show it off at the Tropical Theme night.
Saturday: A White Affair, Sexy White Theme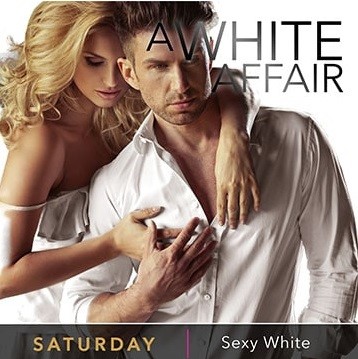 Make sure you pack an outfit that is white!  Desire Resort's white night could include a beach vibe where you dress in an elegant, stylish and sexy outfit. There is nothing more sexy than being dressed all in white as you stand in the wind on the white sand Caribbean beach. It's also a great chance to show off your new all-over sexy tan.
Sunday: Sexy Safari, Animal Print Theme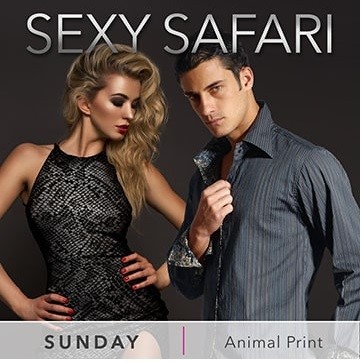 What is your favorite animal print?  Maybe a lion, tiger, or leopard print outfit?  You could even dress as a hunter in pursuit of your prey.  Use your imagination and see what type of wild print costume you can come up with for your next trip to Desire Resort. Hot cougars anyone?
For a complete listing of Desire Resort's latest theme nights click here.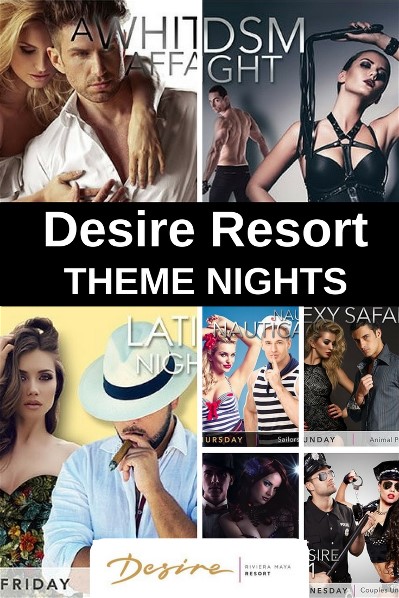 Please PIN this photo.  Thank you!