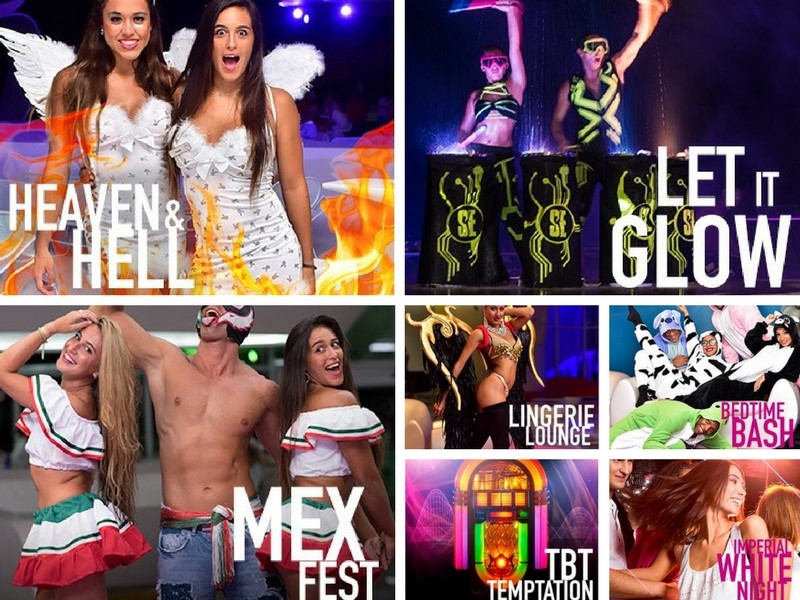 Temptation Resort Theme Nights
Temptation Resort Theme Nights.  The Resort is coined as the "Playground for Adults." What better way to play than by playing, "dress up." At Temptation Resort you can do just that by participating in all of the theme night parties. Be creative and start packing your fun and sexy outfits.  You and your partner can have the best time ever while enjoying the night life during your topless optional vacation of a lifetime.
Here is an overview of Temptation Resort Theme Nights and suggestions for costumes and attire to steam up any room.
For a complete listing of Temptation Resort's latest theme nights click here.
Monday: MexFest Theme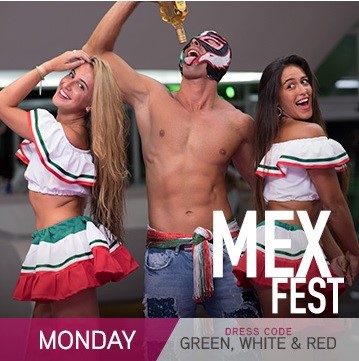 The dress code for Temptation Resort Theme Nights for the first night of the week is the Mexican Flag. Wear anything green, white and red. Don't be shy, get your salsa costume on and dance the night away. Don't be afraid to go outside of the dress code either. Anything that inspires your party vibes and increases the "hot" excitement of the night is approved.
Tuesday: Heaven and Hell Theme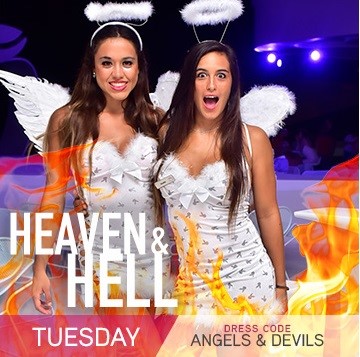 This dress code works in extremes. Try a heavenly angel costume or the naughty and sneaky devil attire. Check out your second-hand clothing stores for great and inexpensive costumes. For the men: a tight pair of pleather pants and a red mesh tank top would be the perfect "devil" costume. For the ladies: Try white lingerie with lots of lace and feminine appeal. Any "good" or "bad" costume will fit the bill and make for a perfectly fun evening.  This is my favorite of the Temptation Resort Theme Nights!
Wednesday: Lingerie Lounge Theme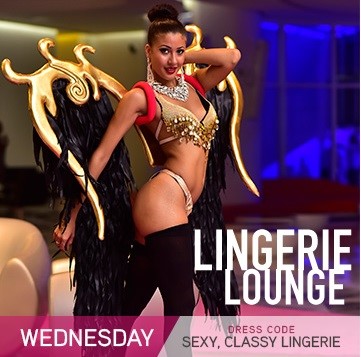 The code for this night is sexy lingerie. Maybe you have the special outfit just waiting for you in your dresser drawer. If not, take a trip to the lingerie store and pick out something that might seem "risky" to wear at home in the bedroom. Who knows, once you wear it at Temptation, it might be a common sight in your bedroom back home. Don't be bashful…this is the place to try out something new and daring.
Thursday: TBT Temptation Theme
This theme night is "one size fits all." Dress in your favorite decade. Maybe you love Elvis. You can impersonate him for the night. Maybe your favorite is Marilyn Monroe or even a character from Grease or something out of the 70's . Pick your favorite era and most of all have fun planning for this outrageous evening of fun and flash backs.
Friday: White Night Theme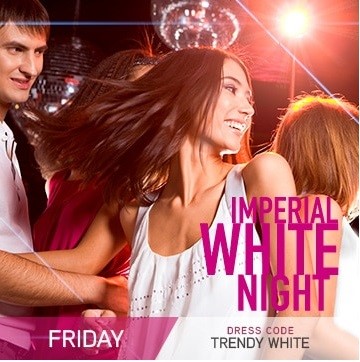 White is the dress code for Friday night. Enjoy the vibes of the ocean and sand. Dress in a sexy white little dress. For the men, try an open buttoned white sexy linen shirt. We all look great in white especially after a few days in the sun. That bronzed skin will certainly complement any white outfit. Sexy, hot and intense is the outcome for this "white" night.
Saturday: Neon Glow Theme Night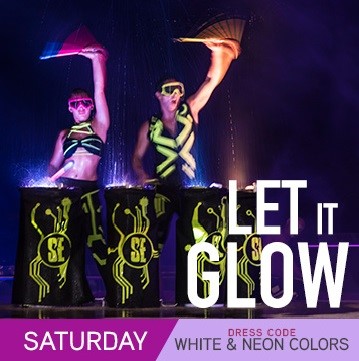 You can sport an outfit of all neon and a little white. The reflection of the disco lights will fascinate all of the party goers tonight. You might also want to pack some inexpensive glow sticks and necklaces and have fun with them. Glow sticks are not just fun for kids, but extra fun at the playground for adults.
Sunday: Pajama Part Theme Night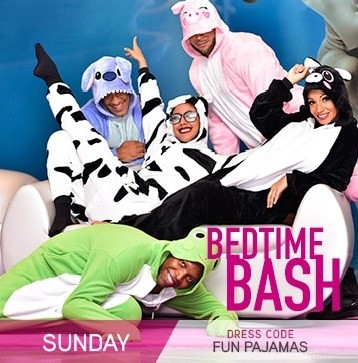 Continue having fun like a kid at the "Pajama Party" theme night. On Sunday at Temptation Resort Theme Nights you can wear your footy pajamas tonight or your sexiest flannel pj's. Pull out your favorite slippers and night-time outfits. Guys might try a satin robe and ladies can go in their hottest nightie. Be creative and dream up the hottest night-time attire. Robes are great too….later in the night, you can reveal what's underneath.
For a complete listing of Temptation Resort's latest theme nights click here.  Check out Desire Resort's Theme Night by clicking here.
Temptation Resort Theme Nights PIN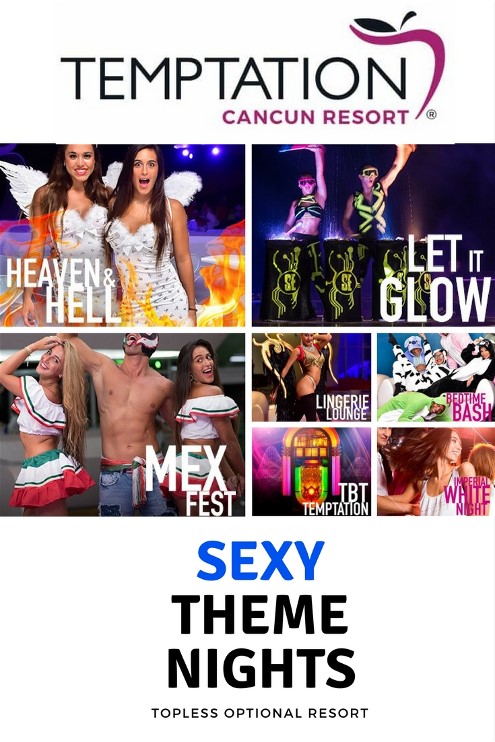 Please PIN this photo of Temptation Resort Theme Nights.